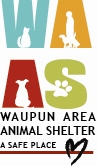 The Waupun Area Animal Shelter is a 501(c)(3) not for profit shelter that serves the City of Waupun. We operate under DATCP Dog Facility Operator License Number 269143.
CHAMP FUND
On December 3, 2009, we said good-bye to our friend Champ. He had a wonderful life at our Shelter, touching the hearts of everyone he came in contact with. In his memory, a "Champ Fund" has been established at the Maple Knoll Vet Clinic. This fund will be used for special medical procedures and tests for our Shelter animals. Please consider donating to this fund in memory of Champ.
Waupun Area Animal Shelter Inc.
901 N. Madison St.
Waupun, WI 53963
(920) 324-3200
E-Mail: [email protected]
Adoptable Pet Search
Waupun Area Pet Shelter Adoptable Search
Join Us On Facebook!
Our Hours
Office Hours
(Effective April 11, 2011)
Monday: 4:00 - 7:00 p.m.
Tuesday: CLOSED
Wednesday: CLOSED
Thursday: 2:00 p.m. - 6:00 p.m.
Friday: CLOSED
Saturday: Appointment Only
Sunday: CLOSED